| SET 1 | SET 2 | SET 3 | SET 4 | SET 5 |
Sunday April 30, 2000 9:33 AM
This gallery will be comprised of various Images of contrails or chemtrails that I have witnessed and captured. The contrail in itself is basically a man made cloud formed from the exhaust of jet airplanes. However there is a movement at hand to determine the safety and or danger involved with these formations. Some of the best conspiracies label these chemtrails and assume they are potential government experiments or immunizations to the public as a whole. More detailed info:
The condensation trail left behind jet aircrafts are called contrails. Contrails form when hot humid air from jet exhaust mixes with environmental air of low vapor pressure and low temperature. The mixing is a result of turbulence generated by the engine exhaust. Cloud formation by a mixing process is similar to the cloud you see when you exhale and "see your breath". The figure below represents how saturation vapor pressure varies as a function of temperature. The blue line is the saturation vapor pressure for ice as a function of temperature (in degrees Kelvin). Air parcels in the region labeled saturated will form a cloud. Imagine two parcels of air, A and B as located on the diagram. Both parcels are unsaturated. If B represents the engine exhaust, then as it mixes with the environment (parcel A) its temperature and corresponding vapor pressure will follow the dotted line. Where this dotted line intersects the blue line is were the parcel becomes saturated.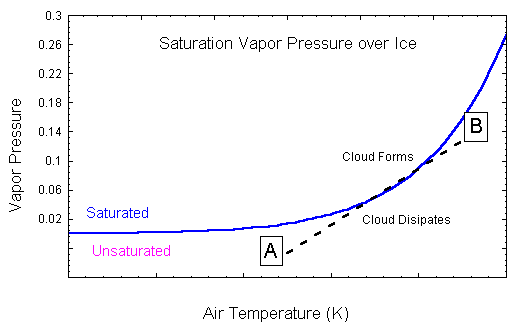 If you are attentive to contrail formation and duration, you will notice that they can rapidly dissipate or spread horizontally into an extensive thin cirrus layer. How long a contrail remains intact, depends on the humidity structure and winds of the upper troposphere. If the atmosphere is near saturation, the contrail may exist for sometime. On the other hand, if the atmosphere is dry then as the contrail mixes with the environment it dissipates. Contrails are a concern in climate studies as increased jet aircraft traffic may result in an increase in cloud cover. It has been estimated that in certain heavy air-traffic corridors, cloud cover has increased by as much as 20%. An increase in cloud amount changes the region's radiation balance. For example, solar energy reaching the surface may be reduced, resulting in surface cooling. They also reduce the terrestrial energy losses of the planet, resulting in a warming. Jet exhaust also plays a role in modifying the chemistry of the upper troposphere and lower stratosphere. NASA and the DOE are sponsoring a research program to study the impact contrails have on atmospheric chemistry. information based partly on studies done at the CISS institute
Back to index Chat Site Info Message Boards E-mail Gallery Guestbook Web Cams Who Are You?